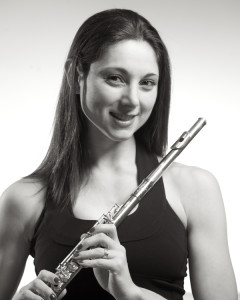 Nicole is a Juilliard-trained classical flutist and Curriculum Developer, who earned a B.A. in Psychology from NYU,  a M.A. in Education from Queens College through the NYC Teaching Fellows Program, and a M.A. in Educational Leadership from the University of Northern Colorado. Nicole has written curriculum for the NYC Department of Education, the Sonima Foundation, the Colorado Symphony, and serves as a senior educational consultant at NY Edge. Nicole currently serves as visiting faculty at New World Symphony, in addition to mentoring New World Symphony fellows. Nicole teaches her course Root-to-Rise: A Systems Approach to Health & Wellness at Juilliard Extension, as well as delivering workshops as a guest presenter at The Juilliard School.
After developing scoliosis, a complex three-dimensional deformity of the spine, exacerbated by countless hours of flute practice over many years, Nicole dedicated herself to the transformative science and art of yoga to realign her spine and strengthen the muscles supporting her back.  She now breathes and moves without pain and is committed to sharing this practice with fellow artists.
After speaking with musicians of all ages, Nicole realized she was not alone. Countless musicians develop physical problems from long hours of practice. Unfortunately, the warning signs of performance-related injuries are often not explicitly taught during music instruction, resulting in unnecessary chronic pain.
Nicole is a Yoga Alliance Certified Yoga Educator, who continues to pursue her study of physiology and anatomy to refine her understanding of the body's relationships between form and function. Nicole completed three Manhattan-based physical therapy internships at Hospital for Special Surgery's Spine Therapy Center, Langone NYU, and the Vestibular Balance Rehabilitation Center at Mount Sinai's New York Eye and Ear Infirmary.
Nicole emphasizes the art of tristhana, the synchronization of breath, movement, and gaze. The tools of breath and gaze may be leveraged to cultivate a relaxed, yet focused concentration that can reduce the risk of repetitive stress injuries by re-educating the body to  replace debilitating tension-holding patterns with healthier movement habits. Nicole's goal is to empower artists to fully inhabit their bodies so they may live healthier, happier and more productive musical lives.
E-mail Nicole to book a Yoga for the Arts private session, Zoom
consultation, or customized workshops: nicole@yogaforthearts.com